P.E
Your child will need to come to school dressed in their PE kit on a Wednesday and Thursday. Please make sure that your child has tracksuit bottoms and a jumper for colder weather.
Forest School
Forest school will take place every other Tuesday afternoon. Please read your forest school e-mail to check if your child is in Group A or Group B. This will also tell you the dates your child will be attending Forest School. Your child will need to bring wellies and come dressed in clothes that will be getting very muddy!
Reading
Please ensure that your child brings their Reading Pack containing their reading book and reading record in everyday. We will give your child 3 books to take home and these books will be changed when they read with an adult in school the following week. Please write a note in your child's diary when you have read with them so that we can see which books have been read and any comments about how your child got on reading that book.
Key Words
Your child will be continuing their Key Word bookmarks from Early Years. These will be pinned to the back of your child's reading record. Your child will learn and practice their Key Words throughout our weekly teaching. Once your child is able to confidently read the Key Words, we will then move them on to the next bookmark. It would be great if you could practice these with your child when reading with them.
Homework
Homework will be sent out on a Friday. The homework sheet contains a summary of the maths learning we have been doing that week and also a list of words containing the phonics sounds we have been learning. You could practice these at home with your child and send in any extra work to showcase in class if you wish.
Each Friday morning we will be doing a spelling quiz. This will be based on the 5 spellings at the bottom of the homework sheet. Please try and practice these spellings at home. You could play games with the words or write them in different ways.
We begin Term 4 reading Mrs Armitage on Wheels where we will focus on labelling, sequencing and writing our own version of the story. This text will link to our history learning where we will find out about the history of bicycles and create a timeline of bicycles from the past to the present.
We will continue to look at other Quentin Blake stories such as Mrs Armitage and the Big Wave and use this text as a starter for Science Week. We will be looking at experimenting with different materials to help discover which would be best to build a boat.
As the term moves on we will then begin to look at other modes of transport; discussing how they move and how they are made. In D&T, we will look at using wheels and axels to create a moving model car to showcase in our end of term exhibition.
Weather
Term 2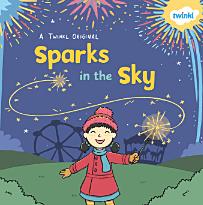 After half term we begin our learning on Weather.
In English, we will begin by looking at poetry. We will use the story 'Sparks in the Sky,' photos and videos to help create a senses poem about Fireworks. We will then begin to look at the features of report writing and learn to write a weather report based on the different weather throughout the year.
Our topic will focus on the months of the year and seasons and we will look at the changes we see across the year.
In Art, we will be looking at the work of Wassily Kandinsky and his use of concentric circles. We will be using his ideas to create our very own artwork based on seasons and we will think about what colours represent each season.
We begin the year with a special delivery from The Jolly Postman and The Three Little Pigs. In English, our focus is letter writing and we will learn about what we need to include when writing a letter. We will then look at comparing the Three Little Pigs to The Three Little Pugs and The Big Bad Cat by Becky Davies and write our very own version of the story.
For our Geography learning we will be going on a village walk and will be mapping out the route we take. We will also be learning about all of the different types of houses.
This topic is heavily Science based and we begin our learning about materials. We will look at the properties of different materials and investigate which material will be strong enough to stop the Wolf blowing our house down.
In Art, our learning will be based on Paul Klee. We will look at how he uses different shapes to create his pictures and re-create 'Castle in the Sun.' We will also be learning about mixing primary colours to make secondary colours.